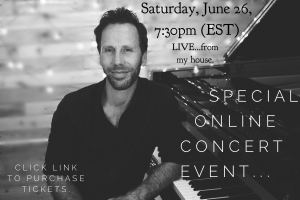 I'll be doing a special online concert from my home on June 26, 7:30pm EST. A lot of you may remember…I did one of these awhile back and let me tell you, it was a blast. My daughters Chanler & Cheyenne will also be joining me that evening. A limited amount of tickets are available, so you need to go ahead and purchase yours now, (click link below). If you have any questions, don't hesitate to email us here:
info@channingeleton.com
See you then!
*StageIt shows are not archived, (you cannot go back and watch later). The concerts are a total unique and live experience to be enjoyed in the moment as it's happening.
**StageIt tickets are purchased with "notes". Note values are as follows…10 notes = $1.00; 100 notes = $10.00; etc. You purchase tickets by buying notes…you can also tip into the virtual "tip jar" ahead or during concert with the "notes".
***Tickets are 100 notes, ($10.00).